Learning to Hear Chord Changes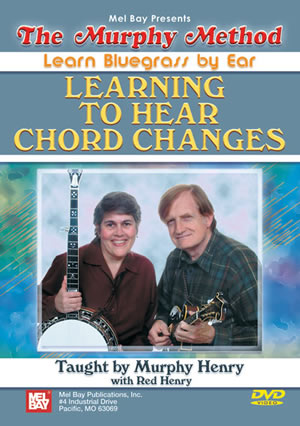 For banjo, mandolin, fiddle, and guitar. Taught by Murphy Henry with Red Henry.

For many people, learning to hear chord changes is one of the hardest parts of learning to play bluegrass. No matter what instrument you are trying to play. And even if you hear when a chord changes, what chord does it change to? And how do you know?

This brand-new DVD will help you learn to hear those chord changes! Even if you've never heard a chord change before in your life! Murphy begins with simple, well-known, two-chord songs (like Skip to My Lou) and walks you through the process step-by-step.

First she sings each song while playing the guitar. Then, going through the song slowly, she demonstrates what the song would sound like if you didn't change the chord. So you can hear that it sounds "wrong." When she moves to the "right" chord (not a hard choice when you've only got two chords!), you immediately hear that the song sounds "right." And that, she says, is the process: "If it sounds wrong, it is wrong."

She then demonstrates each song with banjo, mandolin, and fiddle. She does simple strums on banjo and mandolin, and "chop" chords on the fiddle. (Which she shows you.) Red Henry, Murphy's husband, helps out on guitar and mandolin.

Eventually she moves to three-chord songs, using the C chord. And later, she introduces the A chord and the F chord. She points out that each of these chords has a distinctive sound, and she tries to help you hear that.
| | |
| --- | --- |
| Go Tell Aunt Rhody   | Polly Wolly Doodle   |
| Jingle Bells   | Skip to My Lou  |
| Litttle Maggie   | This Land is Your Land   |
| Lonesome Road Blues   | Will the Circle Be Unbroken  |
| My Gal's a Corker   | Worried Man   |
| Old Slewfoot   | You Are My Sunshine   |
DVD
$26.35


GOLDTONE MODELS AND ACCESSORIES TOO!
*We have most of the models pictured and priced on the website but if you don't see it, we still carry it, and at the lowest price. FAQ
*Check out the pop out links on the right!
*COMPARE OUR PRICES AND ALL WE OFFER WITH EACH PURCHASE - *GOLDTONE BANJOS INCLUDE PROFESSIONAL SETUP A $30 VALUE *Free with banjo purchases Click here to see what comes free with banjo purchases. We have free Book/CDs/DVDs, on board tuners, free banjo lessons with BanjoTeacher.com membership, banjo straps and other freebies. Free items vary depending on what type of banjo.
*Call about discounts offered and what's incuded with each purchase.
*We will match or beat any competitors price! CALL FOR A QUOTE!
*Free US lower 48 state shipping on ALL models! Alaska and Hawaii receive $45 ship credit
* International orders receive $35 shipping fee credit. Email for a international shipping quote * Call for more information banjos 1-866-322-6567 Visa/MC/Discover/AM Express/Paypal

Most banjo's include cases but if you need to add a case go to this page and add one to your order. Case prices are slashed down to our cost but are only available to customers when purchasing banjos, cases not sold separately.

Case options link
No tax with online purchase!
We ship to Canada, Germany, Philippines, Iraq, Italy, Japan, UK, Ireland, Australia, New Zealand. We will ship anywhere!
Thank you! .....When I opened the case, the banjo was perfectly in tune and had a straight neck. It sounds great and I'm very pleased with the product. I am even more pleased with your communication with regard to my purchase. P.S. Thanks for the book too.
More Reviews
Visa, Mastercard, Discover American Express Accepted

Details on ordering Gold Tone Banjos online from BanjoTeacher.com and FAQ
BanjoTeacher.com prices posted below are 25% off retail price, we cannot publish any prices lower than that. Call for more details on pricing. 1-866-322-6567.
We will match or beat any competitors price! Free US shipping on all models.
For Phone orders and more information on GoldTone Banjos at BanjoTeacher.com
Call 1-866-322-6567 10 AM to 10 PM EST 7 days a week