The BG-Mini
Prices are listed below what comes free with the banjo, instrument details and demo videos. Thanks, Ross Nickerson



BG-Mini
from Goldtone Banjos and BanjoTeacher.com



The Gold Tone Mini-Banjo plays great and is great youth banjo for children and kids ages 14 and under It's also a fantastic travel banjo that is small enough to fit in a backpack.

With a two-way adjustable truss rod, a bone nut, planetary-style tuners and a geared fifth string peg, this is a lot of quality for not a lot of money, and it is a very playable novelty banjo. It has an eight-inch head stretched across a modified, hoop-style solid brass tone ring, and puts out a satisfactory tone and volume.

Soundbyte of the Bluegrass Mini
played by Scott Cockerham click here

Includes free US banjo shipping,
Fundamentals of Five String Banjo Book with 2 CDs and DVD (or other Ross Nickerson Book/CD/DVD of your choice)
and a one year membership to BanjoTeacher.com.



Demo Videos and pricing below





| | |
| --- | --- |
| | |
Easy to play small banjo for children and great travel banjo for adults.
These items pictured below are
Free at BanjoTeacher.com with this purchase.


Free Book/CD/DVD
with purchase
Comprehensive two hour Beginner DVD with 52 page book and two audio CDs. a 29.95 value.
click for details


Free one year membership to BanjoTeacher.com


BanjoTeacher.com members site now has over 90 free videos, 50 lesson and song videos with matching tab, over 100 free tab files, more than 50 Ask the Banjo Teacher columns and instruction articles.
click for details


Immediate Access to Beginner Online Banjo Lesson Option 1 as soon as you purchase the banjo. Includes high quality Video, Audio and Tablature.
You'll be learning banjo before you know it.

12.95 value

click for details

Free case

Your banjo comes with a free padded banjo gig bag. Retail price

click for details
Purchase from an expert

The large corporate chains don't ship Goldtone banjos set up and ready to play.
Their employees don't play banjo and know nothing about them.
Purchase at Banjoteacher.com from an expert!
Demo Videos

What's Included with your Banjo Purchase at BanjoTeacher.com

BanjoTeacher.com prices are 25% off the retail price and include free US shipping, complete banjo set-up and other other free items listed on each banjo's individual page.
Call Ross if you have questions or need advice.
I personally answer all calls and if I am on the other line, I return calls promptly.
Callers can also choose another DVD or substitute free items


Demo Video Homepage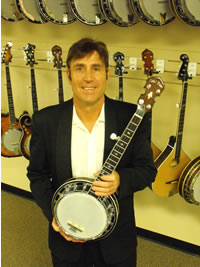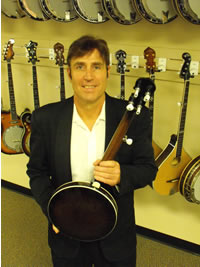 BG Mini Reviews
My BG Mini arrived in great condition and it's a little bottler as we say in Australia! As a professional entertainer I don't usually buy an instrument at such a price but as I already have a GoldTone Orange Blossom I hoped that the quality would still be there. And it is! I'm looking forward to using the BG Mini in my club & festival work back. Thanks & I'm sure I'll be buying more through BanjoTeacher.com! Warm Regards from Aubrey Beggs

Ross, Hooray!
BG-Mini arrived late today. Beautiful! Have only had a few minutes to strum and love it already. Thanks much, Jack

Goldtone BG Mini Customer from England, UK
It's so nice and small and it sounds great. The mute works great too. I'm off home tonight to do some practising. Thanks for everything Jen
FREE US SHIPPING ON ALL MODELS
Includes Heavier Padded Padded Gig Bag Free
$666


BG-Mini with Hard Case
$705



Left handed Goldtone BG Mini add 49.00

Here is a review on the BG-Mini
Goldtone's Bluegrass Mini - From the Banjo Newsletter
By Ben Freed

Wayne Rogers of Gold Tone Musical Instruments has come up with some very innovative ideas in the entry- and intermediate-level banjo marketplace and his new Bluegrass Mini is no exception. This is truly a unique product that should find a home in several musical niches. It may be the world's only child-sized fully functional bluegrass banjo and it is way cool. It has a maple neck, a multi-ply maple rim, a bound mahogany fingerboard, and bound mahogany resonator. With a two-way adjustable truss rod, a bone nut, planetary-style tuners and a geared fifth string peg, this is a lot of quality for not a lot of money, and it is a very playable novelty banjo. It has an eight-inch head stretched across a modified, hoop-style solid brass tone ring, and puts out a satisfactory tone and volume. Its scale length is 19-3/4 inches and tunes up to the key of C with standard gauge strings, so when played in it's played in open position (no capo) it feels as if you were capoing at the fifth fret of a "normal" banjo. Certainly, any small child who has crumpled under the weight of a behemoth "Master-Tone" will love this neat little banjo. It actually looks like a Mastertone that accidentally got left in the "hot-dry" cycle. I can hardly imagine any bluegrass act not wanting one of these for a novelty tune. As a travel banjo, it's perfect, weighing in at six pounds. In fact, the Gold Tone Bluegrass Mini, with its case, could easily fit in a regular suitcase. The BanjoTeacher.com price is listed on this page and for a discounted additional you get the well-padded gig bag that has been designed exclusively for this neat banjo, which is sure to become a collectible. Recommended.
ALL BANJO MODELS AND ACCESSORIES TOO!
*COMPARE OUR PRICES AND ALL WE OFFER WITH EACH PURCHASE - *BANJOS INCLUDE PROFESSIONAL SETUP, FREE SHIPPING and FREE CASE * Other items free with banjo purchases can include Book/CD/DVD, on board tuners, free banjo lessons with BanjoTeacher.com membership, immediate online lesson access, banjo straps and other freebies. Free items vary depending on what type of banjo.
*Call Ross with questions, best price, advice or to change what's incuded free with each purchase.
*Free US lower 48 state shipping on ALL models! Alaska and Hawaii receive $25 ship credit
* International orders receive $25 shipping fee credit. Email for a international shipping quote * Call for more information on banjos 7 Days a week 10 to 10 PM at 1-866-322-6567 Visa/MC/Discover/AM Express/Paypal

All banjos include a case, some models include shoulder gig bags and others hard shellcases. If you banjo doesn't include a hard case it will be offerred a significant discount.


We ship to Canada, Germany, Philippines, Iraq, Italy, Japan, UK, Ireland, Australia, New Zealand.
We will ship just about anywhere!

Thank you! .....When I opened the case, the banjo was perfectly in tune and had a straight neck. It sounds great and I'm very pleased with the product. I am even more pleased with your communication with regard to my purchase. P.S. Thanks for the book too.
More Reviews

Goldtone Banjos come set up, tuned and ready to play!
In addition to your Goldtone Banjo arriving set up and ready to play,
The Fundamentals of Five String Banjo DVD that comes free with most banjo's
has a segment that shows you clearly how to keep your banjo in tune.
Fundamentals of Five String banjo also features a segment called Basic Banjo Set Up
that explains how to keep the head tight, change strings and other maintenance tips.

Visa, Mastercard, Discover American Express, Paypal Accepted

Details on ordering Gold Tone Banjos online from BanjoTeacher.com and FAQ

BanjoTeacher.com prices includes free US shipping, or international shipping credit,
complete banjo set-up with other free items listed on each banjo's individual page.

For phone orders and more information on Banjos at BanjoTeacher.com
Call 1-866-322-6567 10 AM to 10 PM EST 7 days a week