Banjo Workshop Description and Reviews

--------------------

Ross Nickerson's Upcoming Shows

--------------------

Workshop Schedule

--------------------

Ross Nickerson bio page

--------------------

Ross Nickerson On the Road
This is a link to all the places I traveled to last year and am scheduled to visit this year coming up.
--------------------
.....I was at the Midwest Banjo Camp - Lansing, MI, last June and watched you play banjo on Saturday evening. You play amazingly well. My daughter
and I had never seen anyone play a banjo so cleanly and with such speed before. You are really a gifted artist
.
.......I learned more from you at your clinic than I did at the two other clinics I've attended combined! That you are the best instructor around was reinforced after meeting you in person

...... Despite knowing of your reputation, and having attended last year's clinic here in Somerset, I was very gratefully impressed with how much I was able to take away from this year's lessons.  You have a tremendous ability to pinpoint weak areas, but, more importantly, you were able to offer multiple suggestions to address problem areas.  You were able to seamlessly integrate basics like picking technique, rolls, and chords with more advanced techniques in backup, playing leads from chords, and ways to relieve my malignant stage fright.
It must be difficult to critique adults who have made the banjo such an important part of their lives.  However, I never felt you were patronizing with your comments and corrections, and your admonishment to "push myself" mechanically and musically was exactly what I needed.  After our session I had a renewed zeal for practice, with multiple tools and techniques to advance.  I haven't been this excited about practicing and playing in a very long time.  
I have been to other online instructional sites and various clinics and I am 100% convinced that your site and your personal instruction are the best out there.  I would most strongly encourage anyone interested in playing (or in advancing their skill on) the banjo to take advantage of the multiple tools available through your web site and/or to attend one of your clinics.  Nothing comes close to the "return on the dollar" they will get from your various teaching methods. 
On a more personal note, I can play Salt Creek down the neck from rolls and chord changes alone.  Doing the same up the neck is a little harder.  I have been practicing your suggestions to overcome stage fright, and I will test them at tomorrow night's performance.  I am signing up for the instructional cruise as soon as I finish this and look forward to seeing you then. 
Many thanks again for all that you have done to help get more enjoyment from the banjo. 

Bob Cameron

Ross is available for travel to put on Banjo Instruction Seminars.
If you are interested in having a banjo workshop in your area,
please contact 1-866-322-6567 or email at help@banjoteacher.com

More about Nickerson's workshops

Testimonials from previous workshops
----------------------------------------------------

New Release from Ross Nickerson

"Let's Kick Some Ass"

Check out Ross' new CD Straight ahead banjo playing featuring Ross Nickerson and members of the band, Blue Highway, Rob Ickes on Dobro, Shawn Lane Mandolin/Fiddle, Tim Stafford, Guitar and Wayne Taylor Bass. 14 songs in all.
Other Upcoming workshop events
Banjo Workshop Cruise with Ross Nickerson
Can you believe this? A full African Safari and Banjo workshop combined into a once in a life time experience. Spend your mornings and late afternoons exploring the wildlife of South Africa, and your mid day will be filled with a banjo workshop that will be fun and rewarding.

Nov 1st -Nov 9th 2012
click here for more information
------------------------------------------------------------
Annual Johnny Keenan Banjo Festival

September 24th - 27, 2009
Ross will be here again this year!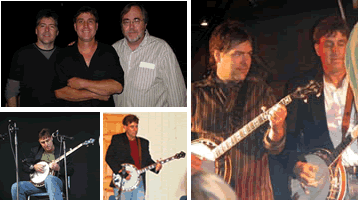 Bela Fleck, Ross Nickerson, Tony Trischka at the 4th Annual Johnny Keenan Banjo Festival


--------------------
The Nova Scotia Banjo Camp


BanjoTeacher.com present the
Nova Scotia Banjo Camp

Next Camp scheduled for October 23-25, 2009





Picture from 2007 Banjo Camp

The Nova Scotia Banjo Camp presented by BanjoTeacher.com will be a three-day teaching and jamming event in beautiful Nova Scotia Canada. The event will include banjo workshop classes, jams, concerts and other activities. The location is set on the shores of the North Thumberland Strait on the scenic Sunrise Trail, just across the strait from Prince Edward Island.

The Nova Scotia Banjo Camp

----------------------------------------------------
Ross Nickerson performance schedule
--------------------


Videos / Live from Ireland and other
Ross Nickerson free videos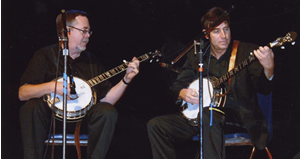 Ross Nickerson, Tony Trischka at concert in Somerset, KY, 2008
Ross Nickerson Performance Videos / 15 in all
Pinecastle Recording Artist-Ross Nickerson

Bullet Proof Productions


New compilation CD featuring Ross Nickerson

Other Banjo players featured on the CD are Earl Scruggs, Sonny Osborne, Eddie Adcock, Greg Cahill, Pete Wernick, Scott Vestal, David McLaughlin, Kristin Scott Benson, Jeff Murray, Jim Mills, and Aaron McDaris. CDs