Free Banjo Tablature Page - at BanjoTeacher.com

You receive a free Banjo E-Book when you sign up for the BanjoTeacher.com Mailing list.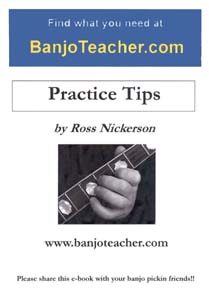 The free E-Book is a an excerpt from Ross Nickerson's
Beginning the Five String Banjo Book with DVD and two CDs.
It will get you off to solid start learning 5 string banjo the correct and easy way.
Mailing List members also receive the monthly discounts newsletter and other banjo instruction benefits.
Your email address is not shared and is only used for the monthly discounts newsletter
This E-book is free for customers that subscribe to
our mailing list.


Join our mailing list

Subscribe to our mailing list and get updates on new products, free tips for learning banjo and other banjo help.


Free US Shipping offer on instructional
Book/CDs and DVDs at BanjoTeacher.com

Details

Below are Free Tabs, Banjo Videos and MP3's from Ross Nickerson

Ross Nickerson Books, CDs, DVDs Online Lessons and the BanjoTeacher.com Members site.
Some of the Free Tabs at BanjoTeacher.com

More songs like these available at the.
Ross Nickerson Banjo Books/CDs and DVDs page
The most comprehensive
Beginning Banjo Book/DVD/CD
there is
by Ross Nickerson
Learn banjo with all the basics. Picking, songs, chords, tuning, proper bluegrass technique and all you need to get off to a solid start. Ross guides you along using his easy to read Book, DVD and Audio His clear, practical, helpful, straight to the point banjo lessons will make it easy to learn. The 64 page wirebound book is very complete and includes two high quality audio CDs and a two hour split screen close-up DVD.

More Information
Ross Nickerson's

best selling banjo book.

The Banjo Encyclopedia

"Bluegrass Banjo from A to Z"

Here are two free Mp3's from the Advanced Songs chapter in the Mel Bay Book by Ross Nickerson,

The Banjo Encyclopedia. John Henry
Train 45



Tab for these songs in

The Banjo Encyclopedia



J.D.Crowe Banjo Tab Books
The Members Site

now has over 100 free videos, 50 lesson and song videos with matching tab, over 100 free tab files, more than 50 Ask the Banjo Teacher columns and instruction articles, Banjo Encyclopedia tips, 25 Ross Nickerson recordings in their entirety, and other assorted help and instruction support. Members also receive a

25% discount on all instructional items

with some accessories and instructional items on sale for even more off.

24.95
Ross Nickerson Performance Videos / 17 in all
There are 17 in the player, to watch the next one, just hit the arrow in the player.

Videos of Ross's New Band X Train
New Live Video of X Train from Harrietville Bluegrass Festival in Australia

New Online Lessons available at BanjoTeacher.com.
The new lessons include over 100 Must Know Licks in nine different important categories of banjo playing.
The subjects covered are Beginnings, Endings, and Turnarounds - Must Know Scruggs Licks - Backup Banjo - Up the Neck Banjo - Slow Banjo Styles - Blues Banjo - Bending the Strings - Chromatic, Triplets and Fun Licks, along with Melodic and Single String Styles


Video samples of the Banjo Online Lessons at BanjoTeacher.com


Online Lessons
Sample of the monthly lessons that are archived on the

Banjoteacher.com Members Only Site

These I do at home and are not up to the standard of the Online Banjo Lessons for sale but
they should still be helpful to you.
You can view the videos in either windows media or on the flash player below. If for any reason your browser will not play the flash movies,
There is a link below the flash version of the demonstration videos in easy to play Windows Media Videos.
Banjoteacher.com members only site
Scroll over the flash player below and click play, if the screen is white, give it a second to load



windows media version sample of monthly banjo lessons

The Banjo Cruise Banjo Workshops at Sea!

Have fun in the sun and improve your banjo playing.
Here are some of the other books from Ross Nickerson that you can purchase with more tab, instruction and CD's.
Here are links below to a page that tells more about them.
Transkriber software for slowing down banjo licks now available and on sale.
Click here for more info:


Transkriber