BF-250F Bluegrass Special on Sale at BanjoTeacher.com
BG-250F
from Goldtone Banjos and BanjoTeacher.com

The BG-250F is the first professional 5 string banjo in our line. It is a vintage replica of the most famous banjo ever played in bluegrass music. All its parts are accurate reproductions of the original. In addition, we have added a maple neck, which brightens tone compared to the original mahogany necks. Features include a 3-ply Canadian maple rim and the straightline tailpiece which provides extra downward pressure on the bridge creating even more volume. 2008 model includes our new GTS planet tuners w/ leather washers. For a no frills, straight ahead bluegrass banjo, the BG-250F cannot be beat for quality and tone.

Includes free US banjo shipping

Video Demo of the BG 250F Click to see a video demonstration of the BG 250 F by Ross Nickerson


Instruments come set up and ready to play


Features

Neck - Maple
Fingerboard - Rosewood
Tone Ring - Bell Brass
Tailpiece - Straight line

Resonator - Mahogany
Rim - Canadian Maple
Nut - Bone
ridge - Maple Ebony


I ordered a Gold Tone BG 250 F Wide last Friday, and I'm already playing it! Nicer than I expected, looks and plays great, Thanks!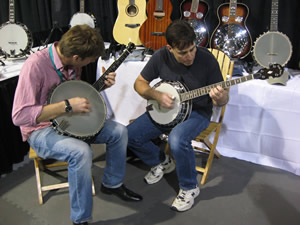 That's me Ross Nickerson and Jens Koch top picker from Swedish Band G2 picking at IBMA in 2008.
The BG 250's are great sounding banjos. Jens is playing the Goldtone Lojo
Customer Reviews


Wow!  Banjo delivered today, Christmas Eve.
Thanks Ross.  I called you last Thursday with a last minute decision to buy my husband a banjo for Christmas - and here it is Monday and I have it in time to wrap up and put under the tree.
Fabulous customer service at a very busy time of year. Judi Zangs - Poplar Grove IL

Ross, I just wanted to let you know, you weren't exaggerating about the bang for the buck of this banjo. I took it down to Guitar Center to compare it with several everal different American made banjos selling for close to $4000.... somehow my bg250f blew them all away especially in volume. I took a friend and he agreed that mine sounded better and louder. I walked in there thinking I would be humbled by the expensive banjos. ..... Thanks for steering me to this banjo; I've learned 7 songs so far and am hopelessly hooked on the banjo. Best Wishes, Carbaugh Mann

Thanks Ross, Got the Banjo today and I love it. I have been playing it and it is a dream. Good tone. Nice and loud. John

I got the banjo today "12/4/2014" and what a banjo, pure heaven. I want to thank you for all you've done for me. You said what you would do and you did it. A person who keeps his word, how rare, hard to find.
The banjo sounds great. I will tell all my playing friends about you and your web-site.
Thanks again Ross.

....Hey Ross, I got the BG250F in on Monday and it sounds amazing!  ....thanks again for the great service and fast shipping. Daniel

.....I went to IBMA (International Bluegrass Music Association) Trade show on Fri and played quite a few banjo's while I was there, I again walked away real happy with my BG250F F. I'm glad that I trusted your judgment and bought it. I hang out with a lot of songwriters and musicians and everyone I've showed it to was impressed with the value and also the deluxe TKL case that came with it. The action is great and it plays like a dream.

Dave from Australia ...Received my BG 250 F last week - very pleased with it. Looks and sounds great!!!

Got my new 250F and I am very pleased. It was in perfect shape and even though I'm a beginner...It plays Great. It's much easier to play than the banjo I've been using and the sound is teriffic.  The deal was also great !! Thanks, Tom Skonie

Customer in Italy who bought a lefty BG-250

.... Hi Ross, I received the banjo today!!! wonderful!!! ... All is Ok! ... I am playing it now and I mean to play until late tonight ;) ... Well I want express my thanks to you now, and communicate as well that I will not forget your name for my next purchasing, possibly next year, and sure I will make your name to friends who want to buy a banjo... Ross! I wish you all the best and again thanks alot. Emanuel.

Ross – the Gold Tone GB 250F arrived yesterday and it's everything you said. What a great banjo. I just hope I can do it justice by learning to play it! Thanks again for calling me from Australia to answer a couple of neophyte questions. I didn't expect you to call from the land down under! Great customer service! PS – Kathy was great as well, very personable and helpful.

...... BG 250F customer in Australia....G'day,my banjo arrived today. Absolutely fantastic. Can't wait to have a crack at it. Thanks for your imput in helping me select a good banjo and your patience. Hope all is well and have a great Chrismas. Graeme.

.....The Bluegrass Special banjo is great and I'm quite pleased with everything. Thank you so much for all your help and great customer service!

BG 250F to Australia
....my banjo arrived today and looks and feels great. I'm a happy man.(shipping from america to my post office in vic, australia took only 6 days ) i like the weight- finish-action and tone .(would you believe the banjo was in tune ) it was my lucky day when i discovered you over the internet and i will have no hesitation in recommending your service. oh by the way im making full use of your members only site that was a great bonus. i know youve heard this praise many times before, but it is deserved. geoff draper
These items pictured below are Free at
BanjoTeacher.com with this purchase.


Free Book/CD/DVD
with purchase
Comprehensive two hour Beginner DVD with 52 page book and two audio CDs. a 29.95 value

click for details

Free one year membership to BanjoTeacher.com

BanjoTeacher.com members site now has over 90 free videos, 50 lesson and song videos with matching tab, over 100 free tab files, more than 50 Ask the Banjo Teacher columns and instruction articles.

click for details

Free Hard Case


Your banjo either comes with this free deluxe TKL hard shell case, reg retail price 199.95

click for details

New Clip-on Gold Tone Tuner
Goldtone's new innovative tuner is the best Clip-on tuner available for banjo.



Retail price $30




click for details

All Online
Lessons
available at BanjoTeacher.com

Free with this Banjo

All the Video, Audio and Tablature lessons available
by Ross Nickerson

Normal discounted Price of $89.00



click for details







Demo Videos of Ross Nickerson playing the BG 250F






Purchase from an expert


The large corporate chains don't ship Goldtone banjos set up and ready to play.
Their employees don't play banjo and know nothing about them.
Purchase at Banjoteacher.com from an expert!





Demo Video Homepage

Banjos come set up and ready to play
Each banjo is played before it leaves the shop!
Along with the strict quality control that Goldtone is known for and the banjos being checked very carefully before being shipped, each banjo is given a 12 point inspection,
full head tuning, setup and will arrive tuned and ready to play.



BG250F


includes free U.S. shipping and all items listed above
$1011


BG250F Wide / includes free U.S. shipping and all items listed above


$1041



Other Options

*

Add full Beginners Package Deal with electronic tuner, extra strings, picks and strap for only $20

$20.00 Beginner Package Details Special Price for Capo Spikes!


*

Add 5th String Capos Spikes at 7, 9 and 10th frets 
Special Price! 5.00. Reg price is $27.00
$5.00



*

Add 5th String Capos Spikes at 7, 8 and 9th frets 
Special Price! $5.00. Reg price is $27.00    
$5.00

More Info on Capo Spikes 



*

Add Zero Glide installed to your banjo
Zero glide details
75.00



ALL BANJO MODELS AND ACCESSORIES TOO!
*COMPARE OUR PRICES AND ALL WE OFFER WITH EACH PURCHASE - *BANJOS INCLUDE PROFESSIONAL SETUP, FREE SHIPPING and FREE CASE * Other items free with banjo purchases can include Book/CD/DVD, on board tuners, free banjo lessons with BanjoTeacher.com membership, immediate online lesson access, banjo straps and other freebies. Free items vary depending on what type of banjo.
*Call Ross with questions, best price, advice or to change what's incuded free with each purchase.
*Free US lower 48 state shipping on ALL models! Alaska and Hawaii receive $25 ship credit
* International orders receive $25 shipping fee credit. Email for a international shipping quote * Call for more information on banjos 7 Days a week 10 to 10 PM at 1-866-322-6567 Visa/MC/Discover/AM Express/Paypal

All banjos include a case, some models include shoulder gig bags and others hard shellcases. If you banjo doesn't include a hard case it will be offerred a significant discount.


We ship to Canada, Germany, Philippines, Iraq, Italy, Japan, UK, Ireland, Australia, New Zealand.
We will ship just about anywhere!

Thank you! .....When I opened the case, the banjo was perfectly in tune and had a straight neck. It sounds great and I'm very pleased with the product. I am even more pleased with your communication with regard to my purchase. P.S. Thanks for the book too.
More Reviews

Goldtone Banjos come set up, tuned and ready to play!
In addition to your Goldtone Banjo arriving set up and ready to play,
The Fundamentals of Five String Banjo DVD that comes free with most banjo's
has a segment that shows you clearly how to keep your banjo in tune.
Fundamentals of Five String banjo also features a segment called Basic Banjo Set Up
that explains how to keep the head tight, change strings and other maintenance tips.

Visa, Mastercard, Discover American Express, Paypal Accepted

Details on ordering Gold Tone Banjos online from BanjoTeacher.com and FAQ

BanjoTeacher.com prices includes free US shipping, or international shipping credit,
complete banjo set-up with other free items listed on each banjo's individual page.

For phone orders and more information on Banjos at BanjoTeacher.com
Call 1-866-322-6567 10 AM to 10 PM EST 7 days a week