Banjo Mutes

GOLDTONE "ULTIMATE" BANJO MUTE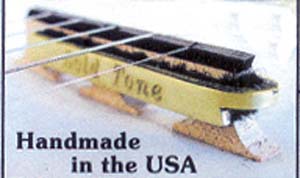 The best mute I've seen especially for the price. Ross Nickerson
A way of practicing quiet on the banjo!It provides a quiet, sustaining tone. It is easy to install and uninstall and fastens securely on the bridge.This banjo dampener will not vibrate loose and his adjustable for all bridge widths. It fits four, five & six string banjos and slides right across the bridge under the strings. It does not hinder right hand picking position and is lacquered brass.
The banjo mute that:
• Will not vibrate loose
• Adjustable for all bridge widths
• Fits four, five & six string banjos
• Slides right across the bridge under the strings
• Does not hinder right hand position
• Lacquered Brass
Practice quieter with
The 'Ultimate' Banjo Mute
Regular Price $22.95
$22.95

Goldtone IUCCI Banjo Mute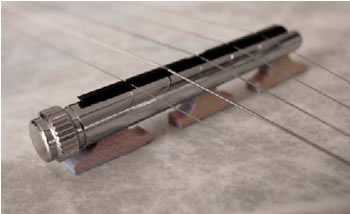 The Gold Tone Iucci mute is a replica of the classic 1924 mute developed by Mr. Iucci. These mutes were popular at the time for tenor banjo but could easily be adapted for 5-string. This mute easily slides on the bridge similar to the Gold Tone "Ultimate Mute", but sounds better and has more weight, which equals more sustain. Now you can enjoy the quiet tone of your banjo for unlimited practice!
$24.95


Banjo Mute Video Demo
:


Testimonials
Parcel received today. Excellent mute! Thanks for the speedy service.
Regards Alan UK
Here at BanjoTeacher.com we do everything we can to make your
experience a positive one and always provide the best customer service.


Mike's Banjo Mute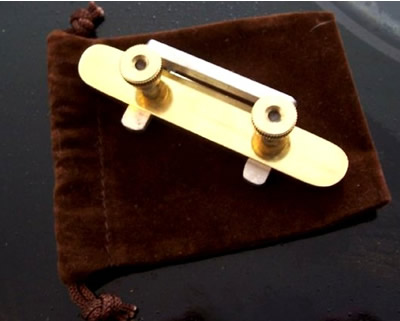 Super Effective
Easy on and off
No string buzz
Stays in place
Enhanced sustain
Fits most bridges, including compensated bridges
NOW AVALIBLE IN RADIUS
4 STRING MODEL ALSO AVAILABLE
Convenient size
Does not add that metallic sound
A smart accessory to own, Mike's Banjo Mute reduces volume to make practicing quieter. Parts are cut, polished, and assembled by hand and individually tested to ensure
consistent quality.
The force required to attach or remove some mutes can move the bridge.
Instead, Mike's Banjo Mute goes on and off easily. The hook of soft aluminum holds firmly but gently to the cutouts in the bridge while solid brass rests on top to very effectively mute the banjo to a level that won't disturb others in close proximity.
Fixed nylon screws that won't move or scratch the bridge hold it snugly in place.
With the mute on, your banjo plays slightly quieter than a guitar at normal volume so it becomes a great play along instrument.
It generates no string buzz or metallic sound and offers an enhanced sustain.
It relieves your spouse of hearing the 300th rendition of Foggy Mountain Breakdown, or the fumbling twangs of a song in early practice.
It's great for midnight and early morning pickers and those playing away from home in a hotel room or office.
Mike's Banjo Mute completely detaches from the banjo for regular play to avoid any unwanted overtones.
Mike's Banjo Mute has a low 3/8" profile above the bridge, avoiding any interference with proper hand positioning during play.
With its convenient petite size (2 ¾ x ¾ x ¾) and protective storage bag, Mike's Banjo Mute fits in any case and easily travels with you wherever you go.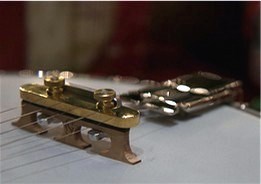 5-string standard for flat fingerboard and bridge with storage bag
45.00
5-string radius for arched fingerboard and bridge with storage bag
45.00
4-string tenor for narrower 4 string bridge with storage bag
45.00
Review
This mute works very well, it seems to mute more than others reviewed which is what keeps peace in this household.

Works Great - even on a compensated bridge I had been told that there wasn't a mute that could work with a bridge like the one I have. I saw in the literature that this mute would work on most compensated bridges, so I ordered it. It works just fine on my bridge. It really does go on and off easily. And it not only makes the banjo quieter, it gives it a completely different tone quality that can have real musical applications.
Golden Gate Banjo Mute

Makes practice easy no matter where you are and at any time of day without disrupting others.

Easily attaches to any banjo in seconds

A must-have for any banjo player from pro to beginner

Each mute is cast from solid brass then is heavily nickel-plated for a lustrous look and a lifetime of use. The unique shape is perfectly weighted and provides just the right amount of dampening to effectively mute string volume; while still allowing each note to be heard clearly. It's the perfect accessory for any musician, from the professional sharpening their 3-finger rolls, to the beginning student just trying to pull the right notes out of their instrument, the P-180 is an absolute must. Fits most 5-string banjos and easily stores in the accessory pocket of any case.

List Price 14.95

Our Price 14.00



BanjoTeacher.com Member Site details