SMALL BANJO PICKS FOR CHILDREN
Child size cobalt coated picks

A set of Dunlop .018's with the Cobalt coating, coated by Bob Perry himself

A finish that makes other picks obsolete!
Nasa has been using it for years in high-tech machinery, where expense was no object.
Used on metals to reduce friction and wear longer.
End Result Picks do not drag or squeak on the strings!
Less drag means faster playing & cleaner sounding!

Virtually wear resistant and they really do make a difference.

Finally some youth banjo picks for kids, also perfect for woman that have smaller fingers.

Buy these picks with the cobalt coating! You won't be sorry.
I'm extremely pleased with this new innovation...Ross N
Two Child Size Cobalt Coated fingerpicks

7.45

Two child size finger picks with
one small thumb pick 8.95


Two child size finger picks with
two small thumb pick 9.95
...Ross, Thanks so, so much for my child banjo picks.  They fit my fingers just fine. 
They are so much better than those larger picks I bought when I first started playing last year.
  Thanks for the good service also. Cecille Gove
Coated for Comfort Banjo Picks

Are your banjo picks hurting your fingers? Is it keeping you from practicing as much or using the banjo picks like you know you should. We have come up with a solution that could help save your fingers and keep you playing and practicing longer. We've coated Dunlop, the best gauge dunlops for tone with a rubber coating that makes them easier to slip on, more comfortable, eliminates the holes that dig into your cuticles and if you choose the color coated ones, they are easy to tell apart too.

These are available in clear so you cant even tell they are coated or in an assortment of colors if you want to be able to tell them apart or like using the different colors available.


Smaller Pick Size for Children or Petite Fingers

Choose your favorite colors



Smaller Pick Size for Children or Petite Fingers
Two Black
11.95



Smaller Pick Size for Children or Petite
Fingers
Two Blue 11.95




Smaller Pick Size for Children or Petite
Fingers
Two Red 11.95


Smaller

Pick Size for Children or Petite

Fingers

One Red/One Blue

11.95

Add a Thumbpick

National Thumbpick -

Right

- Large -

$1.44

National Thumbpick -

Right

- Medium -

$1.44

Dunlop Thumbpick - Large -

Right

-

$1.15

Dunlop Thumbpick - Medium -

Right

-

$1.15

Dunlop Thumbpick - small -

Right

-

$1.15

Dunlop Thumbpick - Large -

Left

-

$1.15

Dunlop Thumbpick - Medium -

Left

-

$1.15

Golden Gate Extra Thick Thumbpicks - Large -

$2.84 Golden Gate Multicolor Thumbpick Large- $2.74
Child Sized Small Banjo Pro Picks / Comfort Coated now available
Child Sized Coated picks also available in Stainless Steel Propik - #2
Double Band Straight Blade
Designed so the string touches your finger first, then the metal rim of the pick blade.
You will get a comfortable fit and thanks to an industrial-strength stainless steel, a pick that you can count on using for decades.
Smaller Pick Size for Children or Petite Fingers

Smaller Size Two Blue

15.00


Smaller Size Two Clear

15.00

Add The Pick Pocket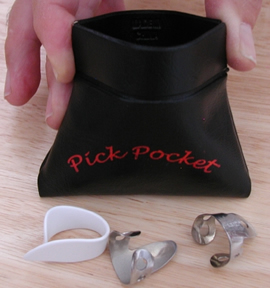 I've been using this pick holder since I discovered them.
I've never found anything I liked better for putting my finger picks in.
Ross Nickerson
10.90

Click for details
Regular size cobalt coated picks


A set of Dunlop .025's with the Cobalt coating, coated by Bob Perry himself

Buy these picks with the cobalt coating! You won't be sorry. I'm extremely pleased with this new innovation...Ross N

Here's the hype, but they don't need it. I know you'll be happy with them.

A finish that makes other picks obsolete!
Nasa has been using it for years in high-tech machinery, where expense was no object.
Used on metals to reduce friction and wear longer.
End Result Picks do not drag or squeak on the strings!
Less drag means faster playing & cleaner sounding!

Virtually wear resistant and they really do make a difference.

One National thumbpick-Large with
Two Cobalt Coated fingerpicks
9.45


One National thumbpick-Medium with
Two Cobalt Coated fingerpicks
10.45

A set of Dunlop .025's - Non coated dunlop picks with thumb pick


Two

non coate

d dunlop picks with one

Medium

National Thumbpick

5.95

Two non coated dunlop picks with one Large National Thumbpick
5.95

Two non coated dunlop picks with one Medium and one Large National Thumbpicks
6.95

Two Child Size

non coate

d dunlop picks with

One Small

Dunlop Thumbpick

5.95