Easy to Take off and Put on Banjo Straps with Quick Release
Banjo Straps Available at BanjoTeacher.com
For more information click these links or scroll down
Comfortable Banjo Super Strap
Hey,Guys..........got  my new strap yesterday. It's perfect, exactly what I need. This strap is the answer to a problem I had with a new gig-bag-case (Stew-Mac).
My Deering Golden Era fits perfectly in the case, but the lid won't close without removing the strap. But with this new removable strap, voila! problem solved.
Also the most comfortable strap I ever used........Thanx again,  Norm Bowser, Prince Edward Island

quality product - Quality made. Easy to use. Paul
SUPER BANJO STRAP™
(approx. 48"–58")

This strap is easy to put on and great for taking in and off easily before putting the banjo in the case or if you just aren't using the strap all the time and don't need it more permanently attached. It comes on and off easy with backpack type clips and you can take the clips off the banjo in two seconds too or just leave them on.

The strap is really comfortable and supportive too and easily adjustable in case you use different lengths when sitting down and standing up. Ross Nickerson All you have to do is thread the loops through the brackets, pass the side release buckles through the opening and reattach to the main strap. This creates a secure hold which is a snap to attach!

The Super Banjo Strap

This is a great design, easy to take on and off. The strap will support the weight of the banjo making it easier to practice. These straps will work on both the heavier 24 bracket banjos and the many lower priced designs because it's easy to put the nylon loop through the smallest of clearance between the brackets.



These straps are the best! They are really comfortable and make the banjo feel lighter and we all know how important that is. They feature a very comfortable shoulder pad, heavy duty nylon, and best of all, detachable clips. No more cramming the strap into the case. Just take it off. I highly recommend these straps and they are money back guaranteed if you're not satisfied with it. Ross Nickerson .

Slinger Strap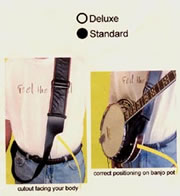 Ric Scoles came up with the design of the Slinger strap because there wasn't't a strap on the market at the time that he really liked. Rick wanted a strap that gave a little more support for his back and was a little wider so it would not cut into his shoulders. The initial design was just a loop with the leather notched to fit the banjo. To make it ride a little flatter, he added an angle to make it fit more snugly against the back. Doing so created a simple strap with a revolutionary approach to holding the instrument in place.

Just looking at it, you wouldn't' think it should work as well as it does, but Ric has used this system for twenty years and the banjo has always been safe.

Made in America It gives very balanced, comfortable support to the back and shoulders without any straightjacket-style strapping. The Slinger is adjustable and fits any brand of resonator banjo.
There is no metal hardware to scratch your banjo. The strap does not stress the banjo or banjo hardware. The strap can be easily and quickly switched between multiple banjos, even during live performances. You only need one strap for multiple banjos, may be the last strap you ever need. The strap is comfortable and easy to use, and very portable. The strap fits into your case along with your banjo.

The fact that the strap is designed to hold the instrument using gravity, at an angle to the body, is the real secret to why this design works so well. In addition to helping the appearance and posture of the player, it provides added comfort and balance by drawing the banjo closer to the body.

We even provide added ties if you feel them necessary, but the beauty of this design is that gravity is what is holding the banjo; no hardware (metal-to-metal) is necessary the heavier the banjo, the better.




We no longer carry the slinger strap



----------------------------------------------------------------------------------------------------