Metronomes for Banjo at BanjoTeacher.com
Learn good timing on the banjo with hand picked metronomes by Ross Nickerson and BanjoTeacher.com

Click the metronome you want to find out more about or scroll down on this page for more information
Batteries included on all Metronomes
Sorry no longer available

Buy Now Price 169.95


Boss Dr. Beat DB-90
Practice in style with the flagship of the Dr. Beat Metronome line. The new DB-90 is loaded with quality sounds and drum patterns to make your practice sessions less mundane and more musical. There's a Rhythm Coach function with an onboard mic, a reference-tone function for tuning, an Instrument input, MIDI input, and other handy tools to make learning fun and effective.

The most advanced metronome available
Trigger input to access unique Rhythm Coach exercises
MIDI in for syncing to external sequencer tempos
PCM sounds with "drum machine" style patterns
50 memories
Human-voice count

This metronome has it all, works great, Ross N
More details

Boss DB-30 Metronome



The Take Along Metrnome

As soon as we got these in I took one and put it in my case. Its really easy to use and light. You can't beat the quality of Boss either. Ross Nickerson


Click here for more details


37.95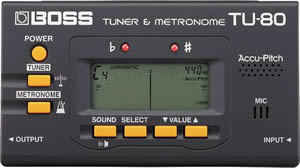 BOSS Tuner & Metronome TU-80

Full featured, chromatic automatic tuner and metronome!
"Accu-Pitch" reference tone indicates when you're in tune
Metronome has various patterns
Tuner outputs tones for tuning to pitch
Batteries included

click for more details

32.95






Wittner MT50 Pocket Metronome





Powered by 9 Volt Battery / Large dial for tempo selection from 40 to 208 beats per minute / Tempo range - 39 steps (40-208) / Earphone jack and Earphone

I like this one a lot for an inexpensive, easy to use metronome. It's plenty loud enough and comes with an earphone. If you can take your time, learn to use it effectively, and use it often, it will be the best investment you'll ever make to help your banjo playing.

No longer available
Boss DB60 Dr Beat Metronome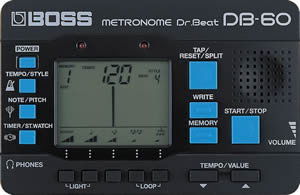 New Metronome available. High Quality,
Boss Dr Beat
. This is a new model from Boss, their other model is much more expensive. I recommend this one for sure as a low cost alternative and something that I know will work well for you with a lot of options.
Ross Nickerson


The Boss DB-60 provides a menu of rhythmic patterns, a note-mixing feature to create rhythms that match the feel and style of your music, and the ability to handle time signatures of up to 17 beats per measure.
no longer available
List 119.50 BT.com price
97.49
The Metronome Section:

The TM-40 is also a multi-function digital metronome with an intuitive user interface. It features an adjustable tempo range of 40 to 208 beats per minute (BPM) that can be set to increase or decrease in single or multiple steps. Thirteen different rhythm patterns (that cover 0-7 beats per measure) — including doublets, triplets, triplets with center beats omitted, quadruplets and quadruplets with center beats omitted — are provided. The TM-40's Beat mode offers preset tempos and time signatures, and Tap mode lets users specify their own tempos. Additionally, the TM-40's built-in speaker with adjustable volume can meet the needs of any situation, from private practice in a small room to sessions in a large studio.


The Korg TM-40 Digital Tuner Metronome

is a multi-function digital tuner and metronome in a single, compact, easy-to-use package. Designed as a practice tool for wind, string, keyboard, guitar and other instruments, it allows players to use the tuner and metronome functions simultaneously or independently.




The Tuner Section:



The TM-40 features a wide detection range of C1 (32.70 Hz) to C8 (4186.01 Hz) and a large LCD-type needle that delivers both the accuracy of an LCD and the excellent visibility of a needle. Its meter scale provides markings to indicate intervals of a pure major third and minor third relative to a selected pitch, plus LED indicators to show pitch deviation or blink with the tempo. Calibration is adjustable within a range of 410 to 480 Hz (in 1 Hz steps) to accommodate a variety of tuning standards.A built-in, high-sensitivity microphone makes tuning acoustic instruments easy and enhances accuracy. The optional CM-100 contact mic adds even greater precision and makes tuning in noisy environments easier.

No longer available - replaced by TM-50 - see below
Combined Tuner and Metronome for Banjo
KORG TM-50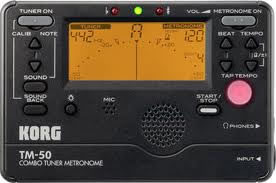 The TM50's full-featured tuner and metronome functions can be used separately or simultaneously for ease of use. A built in microphone and a ¼" instrument input allow tuning compatibility with a vast variety of instruments. Sound Out mode provides three octaves of audio pitches, enabling simple and accurate tuning by ear. Sound Back mode plays back the note closest to the detected pitch for embouchure and pitch training. The metronome provides multiple rhythm patterns and nine time signatures for a versatile array of practice options.
32.95
click for details
KDM2- DIGITAL METRONOME



Features a built-in acoustic resonating chamber for increased volume.

Built-in A440Hz reference tone generator.

Large LED display that provides visual reference of tempo. Loud click sound allowing wide range of rhythm training applications.

Adjustable click volume level that can be defeated to use only flashing LED for rhythm training
Earphone jack Low battery-consumption design.

Dimensions: 3.86 w x 4 h x 1.56 d in. Weight: 5.6 oz. (including battery)

No longer available
sorry