Bluegrass Banjo Backup Instruction
Here are some of the best banjo books and dvds for learning bluegrass banjo and backup. It's important to learn the
building block backup banjo licks and then have an avenue for putting them to practical practice.
This selection of Books and DVDs offers both.
Learn to play backup with Back Up Banjo




Details


by Janet Davis

Learn how to play backup with Janet Davis' comprehensive book now available with DVD and CD. Learn the basic techniques commonly used on five-string banjo to accompany vocalists and instrumentalists. Separates the various back-up techniques into categories determined by song tempo, by lead instrument being accompanied, and by the area of the fingerboard in which the chords are being played. Presented by one of America's finest banjo teachers! There is also a companion book to this video.

Book only 22.95

Book and CD 29.95

DVD only 19.95
by Janet Davis

Learn to play up the neck banjo with this instructional text for five-string banjo dealing with the 5th through the 22nd fret. Included are chapters on roll patterns, chords, songs, licks, chord progressions, arranging songs, improvising, melodic style, chromatic style, chromatic style, back-up, and much more! Also included is an abundance of great Janet Davis solo tabs. Written in tablature. Listen and play along with Janet Davis as she explains and plays each exercise.

Book and 2 CDs 29.95

DVD only



Up The Neck



Details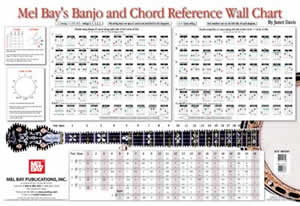 Banjo and Chord Reference Wall Chart 

Full-size wall chart featuring chords and notes on the fretboard for banjo in G tuning. Major, minor, 7th, maj7, min7, 6, 9, augmented and diminished chords are shown. Chords are shown in a Circle of 5ths progression. Chord fingerings are color coded to show proper finger placement.
Details
$8.71

Essential Banjo Licks
by Ross Nickerson

Learn Backup and Up the Neck Banjo along with eight different categories of Must Know" Essential Banjo Licks" with easy to read tablature and split screen video.

This DVD has just been completed. It features over

100 useful and fun banjo licks

that are essential to your knowledge and development. It was filmed using high quality

split screen technology

and features the licks played at a faster and slow speed to make it easier to learn.

There is a full size tab booklet included right on the dvd for you to open and print out yourself. I am very please with the way this came out and I think you will be too.

$29.95

More details
Bluegrass Jamming Essentials

Play with the Pros - Power Pickin' Vol5


Learn the basics of bluegrass jamming for all instruments, and pick up tips and tricks valuable at any skill level.



2.5 Hour DVD with booklet


Bluegrass Jamming Essentials, is designed to assist pickers in any of those camps make a big leap forward - or take their first baby steps. Learning to play with others can be a fearsome thing for new players, and even intermediate and more skilled players who know their instrument well are unaware of the fine points of playing in a bluegrass band. 24.95 more etails
Power Pickin' Vol1 with Bill Evans

Learn how to play up the neck banjo by DVD. Featuring Bill Evans A visual method for learning the basic techniques used to play bluegrass banjo accompaniment in up the neck positions. The material is presented in a step-by-step approach appropriate for all levels of pickers, and a tab booklet is included. Great for pickers at any skill level! 2 hour DVD. An excellent banjo dvd to learn banjo backup up the neck.

DVD 32.95

Details

Basic Banjo Backup
Power Pickin' Vol II with John Lawless



Learn how to play play basic backup banjo.

Another excellent instructional dvd from John.





Featuring John Lawless A visual method for learning the basic techniques used to play bluegrass banjo accompaniment in up the neck positions. A step-by-step demonstration of the basic techniques and patterns used to play roll-style bluegrass banjo backup in the open, or first position. Great for pickers at any skill level! 2 hour DVD with tab booklet.

DVD 32.95 More Details
Playing Banjo Backup In A Bluegrass Band
featuring Bill Evans
2 Hour DVD/tab booklet

In this third volume, Bill Evans combines these and other backup techniques in a powerful demonstration that teaches how to build an effective accompaniment designed to fit whatever type of bluegrass song you need to backup. What makes this presentation so useful is that a variety of styles are shown, both by Bill alone, slowed down and broken into its elements, and with an actual bluegrass band in real time.

$29.95 More details

Banjo set up


Killer Tone Banjo Set Up - DVD

Learn banjo set up with renowned banjo builder Steve Huber takes you through the important variables in banjo set up in this step by step video presentation. Learn how to get that Killer Tone from your banjo! Steve also shows you how to change the tone ring in your banjo and covers adjusting right hand technique for optimum tone. 80 minute DVD. The DVD also includes as a bonus, the 20 minute Huber Banjos video catalog - a $5 value.Save

DVD $29.95

More Details
Masters of the
5-String Banjo

by Tony Trischka And
Pete Wernick

In their own words and Music
Players at every level will benefit immeasurably from the information gathered here. Though not an instruction book, per se, these pages contain a wealth of information and music.

This book focuses on eighteen banjoists who have made significant contributions to their field, including the legendary Earl Scruggs.
$55.00

more details
Key to Five-String Banjo Book/CD Set
Home Improvisation Workshop


By Pat Cloud



This insightful book is about sound perception and execution on the banjo. $18.40 more details
Irish Music on the Five String Banjo
More Details

Irish & Celtic 5-String Banjo by Tom Hanway

Learn irish music on the five string banjo. An important anthology of Irish and Celtic solos for the 5-string banjo featuring a comprehensive, scholarly treatise on the history, techniques, and etiquette of playing the banjo in the Celtic tradition. Includes segments on tuning, pick preferences, and tablature reading followed by 101 jigs, slides, polkas, slip jigs, reels, hornpipes, strathspeys, O'Carolan tunes. If you are serious about playing Celtic music on the 5-string banjo you owe yourself this book.
Book and CD

27.95
Ross Nickerson Books, DVDs, and CDs Discounts and Free Shipping on Multiple Book, DVD and CD Orders
Details at the Discounts Page
Click on pictures for more details on each item

All Instruction Books, DVDs and CDs are money back satisfaction guarantee
d.