Beginning The Five-String Banjo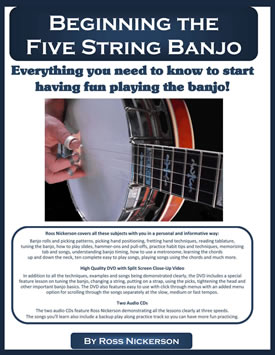 Beginning The 5-String Banjo Book
with two CDs and DVD

By Ross Nickerson

Comprehensive 62 Page Book with Two Audio CDs High Quality Close-up DVD
(see DVD sample below)

Learn how to play banjo easy with Ross Nickerson's renowned Beginning the Five String Banjo Book with two high quality CDs and comprehensive split screen DVD.

Hear and see the lessons demonstrated at three speeds with split screen close up view of both the picking and fretting hands.

Added special features, including a section on changing strings, tightening the head, setting the bridge, parts of the banjo, putting a strap on, picks and much, much more.

The CDs have been upgraded too with each song now having a practice play along track with rhythm backup.



All Lesson demonstrations are slowed down for easy learning


I cover these topics and more: Banjo rolls and picking patterns, left hand techniques, reading tablature, tuning the banjo, slides, hammer-ons and pull-offs, practice tips, memorizing, understanding timing, how to use a metronome, the chords up and down the neck and songs to play, eleven songs in all.

The two CDs come with the lessons demonstrated clearly at three speeds including a backup play along practice track for each song.

The two hour DVD features high quality split screen video and easy to use click through menus. Also included on the DVD is a special feature lesson on tuning the banjo, changing a string, putting on a strap, using the picks, tightening the head and other important banjo basics. At the end of the DVD when you are ready, there are chord lessons that include exercises, chord charts for the major minor and seventh chord, a demonstration of an easy way to find the chords up and down the neck and how to fret and use two and three finger chord shapes. There is a DVD video sample below.

The DVD has an added menu option for scrolling through the songs at the slow, medium or fast tempos separately.

This beginning banjo book with two CDs and DVD is extremely comprehensive, covering many critical aspects of learning banjo that have not been adequately covered until now. Get off to a good start without wasting time on outdated methods, poor quality materials and simple tab books with no quality content.

Songs you'll learn are, Cripple Creek, Boil the Cabbage Down, Buffalo Gals, Tom Dooley, Long Journey Home, John Henry, Red River Valley, Blackberry Blossom, My Old Kentucky Home, Old Time Religion and more. The book includes chord lessons, playing by the chords, banjo rolls, left hand positioning, timing exercises, text explanations and picture illustrations. Proper Right and Left-hand technique is covered in detail along with many time saving practical tips. Ross Nickerson while giving private lessons and workshops has seen 100's of students struggle with the same challenges. His lessons and advice will anticipate tough spots, giving you help and guidance to overcome them.

View the Beginning Banjo Book CD Track Sheet


I've been teaching and playing professionally for many years and I have used my years of experience to put together a method that I'm very confident will help you step by step and give you an excellent start in learning five string banjo technique. Ross Nickerson
Reviews / Ross Nickerson's Beginner Banjo Book, CDs and DVD


....I want Ross to know that I've been trying to learn the banjo, off and on, for 20 years. Since receiving the Beginning Banjo stuff in the past month, I have progressed farther than in the previous 20 years combined. I am so surprised at what I can still learn, even at 52, and the joy it has brought into my life, particularly at this time of the year

......I just received your "Beginning the 5-String Banjo." so before getting starting with the banjo, I sat down and read the entire book from cover to cover and listened to the DVD. It is the clearest, most direct and helpful book imaginable. It answered all my questions, gave me some really useful tips and information and has a crisp, clear starting point and path. The book and the DVD are also so encouraging and the progression so positive it really does give the reader comfort and a sense of having a gifted teacher right in the room. I can't imagine not buying all your other books.

Ross, .....Just wanted you to know that I've learned more from reading only 13 pages of your Learning The Five String Banjo book than I have in two lessons from my (former) instructor. I am a special ed teacher myself so I know the difference between knowing a lot of material and teaching it to someone. By the way if you ever decide to get back to this area, save me a slot on your schedule as a life-time student!!! Thanks again. steve

Have received the book and DVD's and want to say that they are great, already further along than expected. The way things are explained and then demonstrated on the DVD so that you can pause and rewind as required is a fantastic idea. Many thanks David

.....Just want to take a minute to say thank you to Ross and the Beginning the 5 String Banjo book, cd and dvd! I have wanted to learn banjo for 30 years, have owned one for 2 years and am finally now - thanks to Ross - learning to play! This is so cool~God bless you

........I ordered Ross Nickerson's Begging Lessons banjo CD and am really pleased with it. I had previously ordered another persons beginner banjo CD from another site and all it did was showcase his playing. No real instructions. Ross Nickersons's lessons are almost like having him as a private instructor. Finally I'm learning the banjo as it should be taught ........I bought a Fender FB 59 from a friend of mine and have your "Beginning the five-string banjo book, cd, and dvd. I've been at it for about 7 months and my wife is amazed at my progress. I practice from a half hour to an hour a day (sometimes more) and I love every minute of it.Thanks for putting out a great product and helping me to fulfill a life long desire.

......I wanted you to know that my only fan - my wife - could not believe that it was me plunking on the banjo after I got your beginners manual. She said it "almost" sounded like music. I am so happy with your beginners manual that I ordered one as a gift for a friend of mine

.........Your Books are the best thing I found on the market for Banjo

.....I can't tell you how much I have enjoyed  "Beginning the Five-String Banjo".  I just wish I had found your instruction books  when I started trying to learn how to play the banjo eight years ago. It would have saved me eight years of lessons that I learned in your book in two months. Your instruction and suggestions really hit the target and have made playing and learning fun again. Thanks again for you outstanding instruction. Jim Means
More Ross Nickerson Reviews
Complete DVD available for Beginning The Five String Banjo with quick cue menus.

Learning beginner banjo with the CDs and DVD is the way to go. You will be able to hear and see the banjo music being played.
The banjo lessons in the book are formatted so beginners can get started learning the right way from the beginning.


Purchase the Beginning Book(cds and dvd) WITH the Ross Nickerson Playing By Ear and Learning the Chords
for only $13.00 more (reg dvd price 29.95)
free shipping on both items

Purchase the Beginning Book(cds and dvd with
Playing Banjo By Ear (DVD) for $52.95
(reg price $69.90)
---------------
Free Shipping US RESIDENTS
52.95

Free US shipping details



Buy both Books and save
Beginning The Five String Banjo and The Banjo Encyclopedia
for one low price of 69.95



Free Shipping US RESIDENTS


69.95

Free US shipping details
More Possible Ross Nickerson Book and DVD
Discount Combinations with Beginning the Five String Banjo and Free US Shipping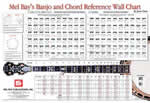 Banjo and Chord Reference Wall Chart 

Full-size wall chart featuring chords and notes on the fretboard for banjo in G tuning. Major, minor, 7th, maj7, min7, 6, 9, augmented and diminished chords are shown. Chords are shown in a Circle of 5ths progression. Chord fingerings are color coded to show proper finger placement.
Details
Customers that purchased the Beginning Book also purchased these items
Ross Nickerson Books, DVDs, and CDs Discounts and Free Shipping on Multiple Book, DVD and CD Orders
Details at the Discounts Page
Click on pictures for more details on each item